---
This page last updated 8/11/99
---
He's just like anyone else...
Highlander on the SciFi Channel! Watch Monday-Wednesday at 9PM Eastern!!

And watch The Sentinel soon, moving to the SciFi Channel this fall to air 5 times a week!!

---

The Mythos of Highlander
My new page now features my take on the mortality behind Highlander, and go into a few details of my ideas about life in general. This page is meant to eventually show my ideas about the mythology of Highlander and prove just how incredibly cool (and deep) the actually is! Based on one of my English projects last year, it's something I hope you'll take the time to at least look at!


---

Jim and Blair are moving!(And you know how much Blair hates helicopters!)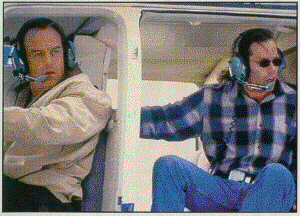 Well, just in case you haven't figured it out, The Sentinel will be moving to the SciFi Channel this September! UPN (the idiots - sorry!) has taken it off their fall schedule, but thankfully it will be shown on SciFi 5 times a week! YAY!!! :) :) :)


---

Featured Site: Support Our Sentinel
Well, the time has come to (maybe?) start campaigning again! Since UPN has booted TS, SciFi (mercifully!) has announced that it will pick it up. But can we get new episodes? Maybe!! Visit this muy maxi ;) important site and find out who to contanct to speak your mind about getting another season!


---

New Story!
"The Return of Richie," by Stellar Ice, is a comical parody-ish thing that basically does two things: brings Richie back (yay!) and makes fun on (Loserboy) Nick Wolfe. Very amusing; available in the Watcher Database.


---

New Story!(Again!)
Just archived - "The Eternal Footman" by JinxoLAL. Richie's not dead - everybody knows that! But then what did happen to him? Richie has had a destiny to fulfill ever since the beginning of the series, and now he finally finds out just what that higher purpose is. You can find it in the Watcher Database of fanfic!


---

Richie Song
I wrote a poem-type thing after seeing a particular episode (that DOES NOT EXIST); JenX took 'em and turned them into a song! Awesome! Check it out!! It's in the Multimedia Gallery, called "One Less."


---
Highlander comes to the SciFi Channel!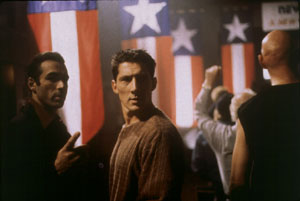 Highlander is now on the SciFi Channel, Monday through Wednesday at 9PM and 1AM Eastern (that's 8PM and 12AM Central), so if once a day isn't enough, you can get more!

PLUS: Check out my This Week's Episodes for a list of the episodes that will be on. I'll try to keep it updated!
Also, for those of you who get this (I don't know exactly who's affected by this), USA is also showing Highlander Monday-Friday at 12PM Central.


---

Nick the Loser Page!
Well, due to the fact that he is affiliated with a HL-type show, I finally gave Loserboy (Nick Wolfe) a page. Right now it's relatively small and devoted almost entirely to making fun of him, but who knows? More may come in the future...


---

New Sounds!
Thanks to my surfing the web some more, I have some new Sentinel and Highlander sounds up. Specifically, some actual Jim WAVS, one or two new Blair ones, and a couple of new Methos ones. Even a new Connor one!

I just found some good Joe WAVs as well, including a clip of his blues playing. Check 'em out!


---

New HL Pix!
My "HL Pix" disk has disappeared AGAIN, so it may be a while before I can get any new pix up. In the meantime, however, I did add a few new pictures to the Highlander Image Gallery, including

this one, which my calendar is turned to regardless of the month! ;) I did get a cool pic of Richie's bike, though, and that's up in Richie's Room.

There is also a new fanart addition to the Multimedia Gallery: a drawing of Tessa Noel (ick :P) by JenX (it's the subject, not the actualy drawing, that I dislike, by the way).




---

If you have any news on either show, or you have a suggestion for a featured site, or even if you'd like to be archived (I'd take almost any submissions happily!) just email me and let me know!


---

I am also looking for a couple of things:
1) If anyone has The Sentinel episodes The Debt, Red Dust, or Red Ice, I am willing to trade for them.
2) If anyone knows how to get script to scroll along the bottom of the window, please tell me!
3) If anyone can tell me how to make transparent backgrounds for drawings, I would be very thankful indeed!
4) I am looking for a copy of either the Jim Byrnes CD or the 2nd Highlander Series album - if anyone would be willing to copy them for me, I would be glad to trade something!




Special thanks to JenX for making the awesome banners for me!! Thank you!!!!!!!



---
Back to the Cascade Dojo Main Page
My Own Worst Enemy - Lit