---

Ficworld
An awesome and extensive fanfiction site that features all of Marvel Comics' X-books, The X-Files, all venues of Star Trek, and of course, Highlander!!

Highlander: The Series
The Official Rysher site - very nice, lots of pictures and also a complete history of Duncan MacLeod!


Studlander: Home of Richie Forever
Okay, so the name could use a little tweaking, but this is a great Richie site with tons of stuff.

Highlander: The Series Sound Page
I think the name says it all - a great place for HL sounds.

Highlander: The Official Site
The all-inclusive official HL site with info on the movies and the series, as well as a catalog! Yay!

Methos: Our Blue-Faced Love God
Did I say the Richie site's name needed help? Well... you know. But this is an awesome Methos site with great stuff, and I recommend it.

Highlander: The Series .WAVs
Once again, it's all in the name. LOTS of .wavs!!:)

The Highlander Sword-Shoppers' Guide
Don't let the name fool you - this is a site of extremely amusing picures done by computer. A must-see!

Methos Methos Methos
Well, if the name doesn't say it all, I don't know what does!

Bargain Highlander Cards and Books and Complete Highlander Information
A really cool site for anyone interested in the Highlander CCG (where do you think I got most of my Connor pix ;) ); offers boxes of cards and books as well. If this is the sort of thing you're into, check it out!!


---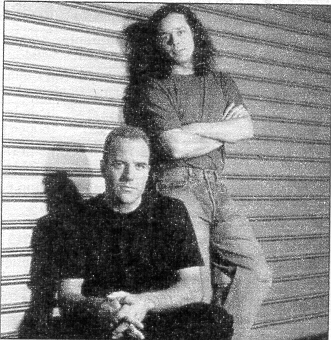 Guide Posts
Basically, *the* place for Sentinel fanfiction!

Cascade Underground
An excellent Sentinel site with pictures, sounds, a message board, and more!

Support Our Sentinel
Just in case you didn't catch the banner, here's the link for your convenience! Yes, I know it is coming back, but support is never a bad thing!

Sentinel Smarm Sanctuary
An interesting fanfic site that I can't really explain. It's one of those things you just have to go there for.

Wolfpup's Den
A cool site with pictures, sounds, and fanfic.

MegaRed's Sentinel Page
A nicely done site featuring Mega's fanart (which is awesome) as well as fanfic (I just love fanfic, can't you tell?).

The Save Our Anthropologist Site
A really cool site devoted mostly to Blair (who is NOT dead, of course!), but also has great sounds and a list of signs that you just might be a Sentinel...

Major Crimes Bullpen
This is an awesome site featuring pictures, sounds, and bloopers (which are extremely amusing)! One of my top choices - check this out!

The NIGHTOWL's Nest - Sentinel Resource Site
Well, it's basically what it says - a very extensive and awesome resource site with tons of info on the show! Anything you need to know that has to do with fandom - go there!


---

The NEW Poor Neglected Mutants Webpage
My other website, devoted to the two most neglected mutants on the X-Men: Cannonball and Iceman. No also featuring Gen13 and their two most neglected, Grunge and Burnout!


The Official Metallica Site
Metallica is awesome. 'Nuff said! ;)

JenX's Archive
An awesome X-Men (well, mostly Generation X) fanfiction and fanart site run by my best friend, JenX! Featuring Problems and Bigger Ones and the rest of the PABO series.

NASA Homepage
Yes, I'm nuts and insane, but NASA is still awesome and so is this site.




Tenchiverse! Links
Anywhere you want to go that has something to do with Tenchi Muyo! is on this list. It has to be!

Billy's SUPER HAPPY FUN PAGE!!!
Well, if you don't know Bill Prost, this probably won't mean a thing. But if you do, check it out!

Beautiful Oblivion
An awesome site dedicated to EVE6, and most of all, their cute drummer boy, Tony Fagenson! Lots of great pix and info as well as guitar tabs and lyrics.

Becky's Homepage
Becky Walker's homepage. Once again, under construction, but cool nonetheless!

Death Bowl '99
Set up on a bet from my Physics teacher, the infamous Mr. Gobble, I "killed" Mark "Digitally Challenged" Perry. And I *still* haven't gotten my 5 bucks...


---
Back to the Cascade Dojo Main Page
Three a.m. - Matchbox 20